Self Confidence Boosting Fun in the comfort of your own home.
Thank you for signing up. We'll see you soon.
Thanks for just being here. Whether we meet once or we meet for years to come, I'm glad we get to meet. Why? Because we get to learn from each other. I swear I learn about some of the best music and books from my students.
If you're new to our studio, you will receive an email from Dance Studio Pro with your login details.
If you need any help you can email us at help@choreographybyrae.com or text (646) 617-9376.
See You Soon!
It's never too early to dream big.
March 29th- April 4th, 2021
Last day of Spring Semester
June 7th- August 7th, 2021
August 16th- December 11th, 2021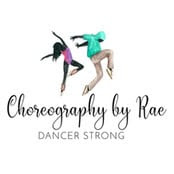 Welcome to Choreography by Rae online!
We are in EDT zone. Please double check your class time.
Ready to make home-based learning fun? Our interactive online classes offer a great opportunity for kids to learn something new while sharing their own ideas.
Where does class take place:
All classes take place on Zoom. You will need an electronic device (smartphone, tablet. laptop, computer, television with internet access) to participate in class.
Accessing your Class:
You will access your class using your Dance Studio Pro (DSP) family account. Check your email for your DSP login information. You can also visit the Parent Portal Login here and hit forgot password to have a new password sent to you. If you are unable to login contact help@choreographybyrae.com or text (646)617-9376 for assistance.
From your account you can access your class in 3 easy steps.
Step 1: Log into your DSP account by going to the Parent Portal Login and click on the Calendar icon. Calendar offers the best way to see all of your classes.
Step 2: Click on your class. You will see a camera icon. Click the icon and you will be placed into our zoom room.



Step 3: Click the icon and you will be placed into our zoom room.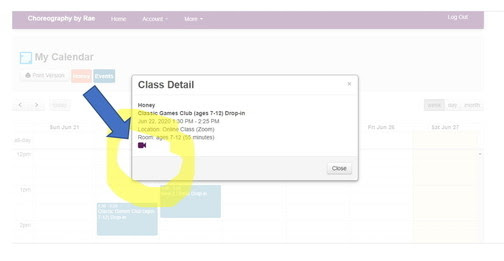 What to expect:

When you access the Zoom classroom you will be placed in an online "waiting room."

Please take a moment to make sure your child's name is on your Zoom Screen.

You will then be admitted to class.

If your child is more than 5 minutes early for class, there may be a cartoon or some music playing, until it's time for their class to start.

Once class is finished the teacher will say goodbye to students who are not taking the next class and move them back to the waiting room

All classes are gamified. There will be some of level of silliness encouraged towards the end of class.

At the end of most sessions students are invited to reflect on their experience.

Tips for a great class:
-Pick a room where the internet connection is strong and the distractions are low.
-Inform your child they can dress up if they want to.
-Toys are welcome to show other students (no toy guns please). Remind your child that this is a class and we ask that they only share 1 item per class.
-If a furry friend walks by, please feel free to introduce us to your pet!
Rescheduling/ Tech Issues/ Cancellation:
Rescheduling- Understandably your availability may change. If you need to reschedule please provide as much notice as possible. If it is at least 24 hours before you class is scheduled to start you will be able to reschedule using the parent portal. For less than 24 hours email help@choreographybyrae.com

Tech Issues- Your internet may crash or the dreaded Microsoft Updates may take over. We get it, just email us at help@choreographybyrae.com to have a class credit applied to your account. Your class credit must be used within 30 days of the original class date.

Cancellation- If your child does not attend class we will email your family just to make sure everyone is okay. For fee based classes it is at the discretion of the teacher to provide a class credit. For unlimited class dance cards and camp dance cards a class credit will not be provided. To contact us email: help@choreographybyrae.com or text us at directly at (646) 617-9376.